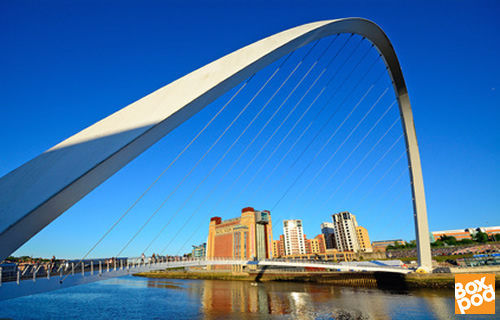 Business premises are in demand in the North-East as commercial property experts are busier than ever. Boxpod has certainly seen a buzz of activity in the market there with a surge in new listings and enquiries compared to last year.
Analysis of Boxpod data sees growth across the region. New listings have increased by 180 per cent on the previous year with property views up 160 per cent over the same period. This is based on a 40 miles radius of Newcastle and looking at all commercial property to rent and buy – offices, industrial, retail, workshops and storage units.
It is in line with Lambert Smith Hampton research which says the North East investment market has seen its strongest first quarter in over a decade. The UKIT (UK Investment Transactions) data showed £181.9m of commercial property assets changed hands across the North East in the first quarter of 2018. This is up 47 per cent on the same period last year.
Luke Symonds, Capital Markets at LSH said: "The North East's commercial property investment market has had a phenomenal start to 2018, led by a resurgence from the somewhat ailing retail sector and bucking the national trend in this regard."
The number of deals was 91 per cent up on the first quarter in 2017. Significant purchases were the Arnison Retail Centre in Pity Me, Durham City and Hermiston Retail Park in Consett. In the office and industrial sectors, stand out deals were Rotterdam House, Quayside, Newcastle upon Tyne and Raleigh Court in Middlesbrough.
A snapshot of commercial units to buy and rent in the North East on Boxpod includes:
Office units in NE1 ranging from 1367 sq ft – 3777 sq ft, £18,200pa – £54,766pa, through Naylors and office spaces at Design Works in Gateshead (NE10), various sizes.
There are Serviced offices in NE1 from £29pw
Available in NE6, HTA Real Estate has a 7938 sq ft industrial unit/workshop for £39,380pa.
Industrial units in North Shields (NE27) are available 13136 sq ft – 28370 sq ft and in Gateshead (NE11) units/workshops from 30000 sq ft – 37653 sq ft, POA.
1st Storage Centres has self storage units in Newcastle (NE6) 12-500 sq ft available, POA.
Businesses, individuals and investors looking for commercial property to rent and buy in the North East can see available properties on Boxpod:
Commercial property in Gateshead
Commercial property in Newcastle Upon Tyne
Commercial property in North Shields
Commercial property in Middlesbrough