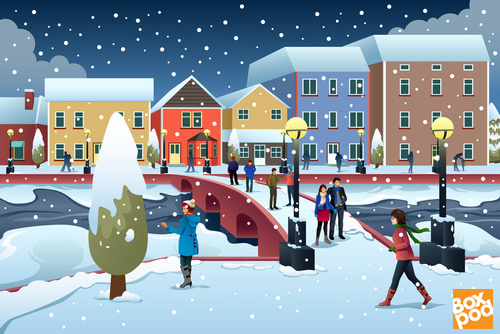 Using the ever-popular and traditional '12 Days of Christmas' theme, we bring you our festive offering – turning the spotlight/fairy lights on the commercial property world.
It's been a bumper year for Boxpod and thanks to all our customers for making Boxpod bigger and better year on year. We are now listing 50% more properties than we were a year ago and building on the niche commercial property market by focusing solely on offices, workshops, storage, retail and industrial units to rent and buy. We truly are a dedicated commercial property portal offering affordable, cost-effective advertising for private landlords, agents, councils, farmers as well as brokerage services with email or telephone handling. There are no houses on our site!
Another highlight this year is our new self-administration facility which allows landlords to upload and manage their own commercial units to rent and sell on Boxpod. This allows you to be 100% in control of your portfolio and enquiries.
Just as flexible working and flexible workspace have become big in the market so we too offer flexibility to all Boxpod customers – you can choose to manage your properties, or we will.
So, looking at our Top 12 for 2017, it's exciting to see our very own heartland, the Midlands – the place where Boxpod was born, featuring strongly.
Here's the top places to find business premises on Boxpod:
1 – Leicester
2 – Northampton
3 – London
4 – Loughborough
5 – Nottingham
6 – Manchester
7 – Halifax
8 – Plymouth
9 – Milton Keynes
10 – Bedford
11 – Southampton
12 – Oldham
Make 2018 the year you start your own business, expand your growing business and find commercial property to rent on Boxpod.
Manage occupancy levels and maximise rental yields and sale prices by using our commercial property portal to advertise your units on Boxpod. It's flexible, affordable and cost effective.
Everyone here at Boxpod wishes you a very Merry Christmas and a Happy and Prosperous 2018