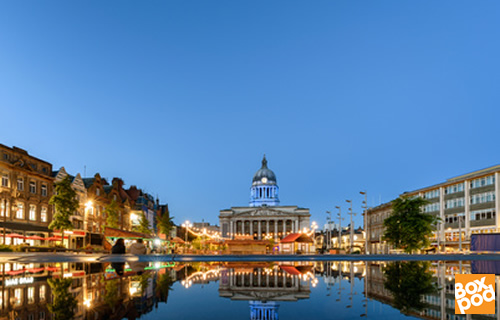 The crooked spire of Chesterfield is a remarkable landmark. The market town has also seen an incredible surge in interest in commercial units to rent over the past year, according to Boxpod data.
Looking at the East Midlands region as a whole, comparing, 2017 vs 2018, Boxpod saw an increase in property views of 171%. Telephone enquiries were up 260% with online enquiries up by 162%.
The biggest gains were reported in Chesterfield, property views were up 226%. There was a 303% jump in telephone enquiries and 211% online enquiries. 
See available units to rent in Chesterfield.
Analysis of Nottingham data saw interest in industrial/workshop units to rent in the city at 54% – that's as much as retail and office units combined.
Take a look at commercial properties in Nottingham.
It's all good news for landlords across the East Midlands as the region continues to attract strong levels of interest and demand is high for prime commercial units to rent. Ever-improving transport networks, continued development in the infrastructure and a shift away from the traditional London, Birmingham and Manchester business hubs all contribute to this growth. Flexible working, co-working and flexible workspace are being found throughout the East Midlands.
The combination of market towns and cities means businesses have a great choice of new and old, traditional and contemporary workspaces, served by planes, trains, automobiles and trams. It all promises to be a prime region to start and expand business in 2019 and beyond. Start your search for property sooner rather than later. Don't miss out!
Search for workspace across the East Midlands.
List your workspace on Boxpod in three simple steps and enjoy flexible and cost-effective advertising.