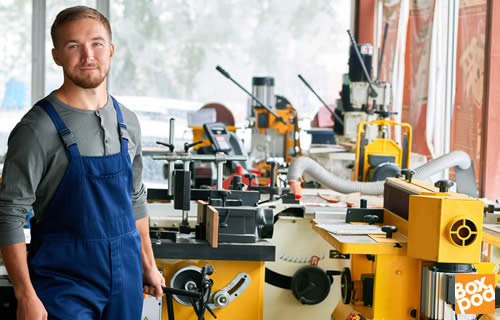 If you are an artist, mechanic, or work with your hands, you might have started your business in your garage or garden shed. Or maybe you are earning money buying products in and then shipping them out. There comes a stage, however, when you might feel that you need to expand. Maybe you need more space to carry out your work, or somewhere larger to store your materials. It might be that you don't want to work at home because of the noise generated by your activities or would like somewhere separate where you can bring clients to. If you recognise any of these situations, renting a workshop or industrial unit could be the answer.
We have seen a massive rise in the number of people starting their own businesses since the COVID-19 pandemic hit and due to the nature of the pandemic, many of these were started from home. Many of these businesses have enabled people to use their artistic skills, and, although not all have risen to success, we are seeing a boost in the popularity of support for smaller, independent businesses. With the success of these kinds of business, there is also a need to expand in terms of workspaces.
More Space
One of the main benefits to renting a workshop is that it will be able to give you more space than a garage, shed or spare bedroom. Having a dedicated space where you can store materials, equipment, and finished products, as well as a space to be actually carrying out the work can make life easier and more organised.
Having the space to work without the need to unpack and pack every day and make as much noise and mess as you like can also be beneficial (and save time).
Not Home
Although some people enjoy having the ability to work from home, working from home can also be a disadvantage. It can be good to separate your home and work life – especially if you work for yourself – as the temptation can be to work too much. Working from home can also mean constant disruption – from children or friends, for example. By renting your own industrial unit or workshop, you can help to separate these two, making work a place for working, and home a place for relaxing.
It might also be the case that your work involves potentially dangerous machinery or making a lot of noise, meaning that working from home is not ideal – renting an industrial unit is far safer and less disruptive.
Or maybe you are looking to bring clients in and do not feel comfortable having them sat on your living room sofa. If you rent a separate workshop, you will also look more professional.
Change in Location
If you are producing products that need to be shipped out – or, indeed, are receiving products, it could be beneficial for you to choose an industrial unit that is in a logistically good location. Maybe you could choose a workshop that is close to major transport hubs or motorways, for example. This could save you a great deal of time and money if your business depends on this.
Health and Safety
As a business grows, the need for a good health and safety environment also expands. This can be much easier to achieve in a purpose-built workshop or warehouse. Adequate space, ventilation, flooring, and other facilities would normally come as standard, so moving to a purpose-built warehouse or workshop can also help you to look after your health and safety.
Office Space
As your business expands, there will (unfortunately) be more and more admin that needs to be done. Whether it is invoicing, marketing, liaising with customers, or sorting out your tax affairs, the likelihood is that you will be spending more and more time doing admin (or employing someone to do it for you). This might mean that you also need to have some office space for a computer, perhaps a telephone, and any paperwork that you may need to keep.
Often, a dedicated rented workshop will also have an area that can be used to carry out your admin work and store any paperwork that you need to. This allows you to keep all of your business in one place – which is beneficial for your customers, as well as enhancing communication within the business.
Renting a Workshop for your Small Business
If you have decided that now is the time to rent a workshop or industrial unit for your small business, there are some things that you should look out for:
Check that the property is suitable – It is important that you check that the property is suitable for your kind of business and the activities that you are planning on carrying out in it. Check that you have adequate ventilation for your activities, enough natural light, and the right kind of flooring and lighting, for example.
Check the purpose on the lease – Some leases stipulate for what purpose you can use the premises. You should not only ensure that your business fits into this to ensure that the contract is kept to and that you do not get into any trouble further down the line.
Check the insurance status – The lease should explain who is responsible for the insurance of the premises.
Define as much as you can in the contract – You contract is the key to knowing your rights. If in doubt, get it explained in the contract that you have with the landlord. This will help to avoid grey areas and ensure that you are clear about what to expect from them and what they expect from you.
Final Thoughts
Deciding to move your business into a separate workshop or industrial unit might seem like a big step, but it is almost certainly one that will help you to grow it to the next stage. A dedicated workshop can give you more space, as well as have other benefits such as improved health and safety and making yourself more professional looking.
Looking to expand or grow your business? Find your perfect space on Boxpod. 
Do you own or manage commercial space? Advertise it on Boxpod