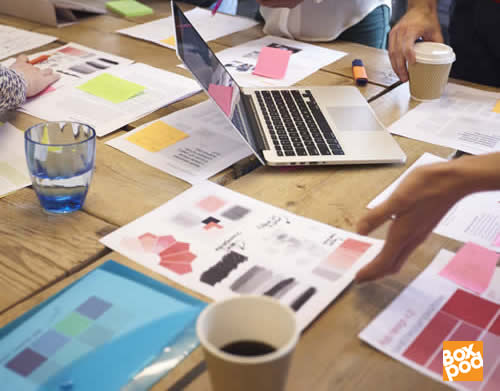 2020 has been a strange year so far for commercial property. Of course, the coronavirus pandemic has affected the way that our business and personal lives have functioned, and one of the main ways that it has affected us is when the government announced that the majority of us should abandon our workplaces and work from home if we can.
This has led to a growth in make-shift home offices, with many of the British workforce working from kitchen tables, bedroom desks, or even ironing boards.
And this has led to changes in the way that businesses work, potentially trying to incorporate a more flexible workspace and the option for employees to spend more time working from home.
These changes are meaning that, although the concept of having an office isn't null and void, things are changing rather more quickly than we could have predicted before the pandemic.
Quality Over Quantity
Here at Boxpod, we have noticed that with more and more staff looking for more flexible working, businesses are having different requirements for their workspaces. It is no longer only about 'location, location, location' in 2020, it is also about having good quality, bespoke premises, one that also focuses on the experience of its occupiers and that it is ready for the future.
We can draw a parallel here with the shopping experience. No longer do we want our retail units to be just somewhere that we can go to buy products. The public is increasingly looking for a place that offers a pleasant, unique experience – that matches their own ethics.
It is clear that the workspace now needs to be one of quality, unique to the business that is inhabiting it. So, what does the 2020 office require in order to make it good quality and attractive to a modern business?
Location Changes
We are already seeing a trend towards the spoke system of business set-up. This means that instead of having one big central office with staff commuting from far and wide, the preference is more aligned with having a smaller central office with several satellite offices – allowing staff to travel less, to a more local workspace.
Reflecting the Purpose
As the country embraces the rise in flexible and remote working, workspaces need to support this. An office is no longer the place where members of staff come for eight hours a day, five days a week. It is more likely to become somewhere that people go less frequently, but to work more collaboratively with colleagues.
It is important, therefore, that the modern office facilitates this, perhaps offering collaborative areas if this is the main reason why staff are coming into the office.
Changes in working practices also suggest that we are more likely to see hot-desking and a need for less personalised workstations. This is a drastic change from the more traditional office structure of every member of staff having their own desk – or even private office.
Company Ethos
When it comes to business ethics and branding it has never been more important to put your money where your mouth is, and this means having a commercial workspace that matches everything that a business stands for.
With customers now able to research more about a business than ever before, the public is increasingly keen to support businesses that match their own morals, beliefs, and ethics, so it is important that they reflect these in everything that they do – including their premises.
Some examples of this can include – making the premises as eco-friendly and sustainable as possible, enabling the latest technology, promoting high levels of professionalism and organisation, encouraging social responsibility, empowering employees, and respecting the induvial – or, indeed promoting teamwork.
A commercial building should be able to enable businesses to incorporate their morals and beliefs into their workspaces through its structure and layout as well as business practises.
Internal Environment
The internal environment of a modern workspace is another important factor. Ensuring that it is a pleasant environment for people to be, that is conducive to productive working is essential. This means that it needs to be the right temperature – with effective heating and cooling systems, have adequate natural light, enough space, and ventilation, away from distractions, and in good condition, for example.
It also means having space for staff downtime areas. This could be a kitchen and eating area, a common area for relaxing, or areas such as games rooms, aquariums, green areas, cafes, and bars, or exercise spaces. Caring for the well-being of their employees has never been more important to businesses.
Eco-Friendly and Sustainable
The world is slowly becoming increasingly aware of our impact on the environment and protecting the environment, and for many businesses, it is becoming increasingly important that their commercial premises reflect this, helping them to do their bit.
This means that 2020 commercial property needs to be adapted or built to be as eco-friendly and sustainable as possible. There are many examples of how this can be done, from the fitting of solar panels and insulation to green roofs, adding water-saving measures, and ensuring there is enough room for staff to park their bikes.
Incorporating Technology
Technology is playing an increasingly important part in the way that businesses are run. From video conferencing spaces to having high-speed internet, there are many ways that commercial premises can facilitate the use of technology, allowing businesses to move forward.
There are several aspects that need to be considered, including:
The rise in remote working, requiring a need for virtual meetings or video conferring spaces
Workplaces that prioritise security both physically and in terms of internet and technology
Smart technology-enabled spaces for both employees and visitors
Technology allowing for the internet of things
Final Thoughts
Here at Boxpod, we have noticed that the way that businesses are working – and therefore their requirements for their commercial property, is changing – and more rapidly – since the Covis-19 pandemic.
It is important that our commercial properties are changing with this, enabling them to facilitate these changing requirements, whilst allowing for business premises to be adapted to make them uniquely perfect for the business that will inhabit them.
Looking to expand or grow your business? Find your perfect space on Boxpod. 
Do you own or manage commercial space? Advertise it on Boxpod