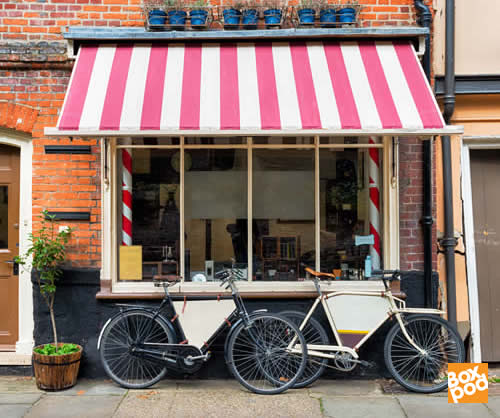 The average high street was always a place of the individual, local shop, offering their own specialist products, but in recent years we have been seeing retail in the high street changing.
The growth of large, out of town supermarkets has led to the demise of traditional butchers and bakers shops and have been changing many high streets in the UK, meaning that there are now few 'traditional' high streets left.
Although we are still seeing a preference from many people to visit the big supermarkets, here at Boxpod, we are also seeing the high street change in other ways. In fact, we are noticing that despite what you might be being told, the high street is far from 'dead'. It is, however, although perhaps substantially different from a few years ago – reflecting the way that commercial businesses and retail companies are now operating.
Bespoke Retail Units Focussed on Customer Experience
One of the biggest changes that we have noticed on the high street – and with retail units in general – is the growth in the need for bespoke shops that put a focus on the customer experience.
Ensuring that a retail unit looks right and is 'on-brand', is – and always has been – important, but this is only the beginning. It is important that the buying experience is an easy one for customers – ensuring that the layout is conducive to displaying – and, importantly, buying. This means that amongst other things, businesses are increasingly using technology to give information about products, finding innovative paying solutions, or offering click and collect options, for example.
It is also important to promote the idea of confidence – no-one wants to buy something from a business that looks unsuccessful and like it's failing, and a lot of this confidence can be gained through the retail space – giving it a look of permanency, for example, even if the retail unit is being rented in the short-term.
Customers want an easy, unique, interesting – and maybe even fun experience for them to choose which business to use – and then return to, and these are often factors that large, out of town supermarkets can't offer.
A business's commercial unit is the foundation of this good customer experience, that the rest can be built on. It is a blank canvas onto which a retail business can paint their branding, layout, commercial aspirations, and general customer experience.
Conscious Consumers
With customers becoming increasingly concerned with buying from businesses that match their ethics and values as well as those who treat them well, it is vital that commercial property and retail units reflect this.
Conscious customers are a growing demographic, and often from the younger generation – and, therefore, the future. Many would rather buy something a little more expensive but something that reflects their beliefs, than the cheapest option – as shown in the rise in the popularity of organic or Fairtrade products in the UK.
This means that businesses need to reflect their own morals and beliefs in the way that they work – including in their commercial premises. This can include anything from incorporating smart technology to speedy payment options to installing the latest eco-friendly features.
A Rise in Service Industries
Here at Boxpod, we are seeing a move away from retail units being used as pure retail shops on the high street, and a rise in the service industries – especially cafes and restaurants. This is mainly due to the changes in the buying habits of consumers as well as a rise in working from home.
Whilst some cafes, bars, and restaurants in city centres are struggling due to the reduced numbers of people who are now working remotely (on a short, or long-term basis), the local service businesses are prospering, leading to a higher density in the high street.
We are also seeing more people who are buying online – whether for convenience or price. This means that we are seeing a move away from brick and mortar shops on the high street, but a higher amount of collection-type shops – or indeed, collection points within existing shops. This also links in with the drastically higher demand that we are seeing for warehouse or storage space.
Another service that we are likely to see rising now and in the future on the high street is in 3D printing. As 3D printing becomes more normalised in society, commercial retail property will also need to be able to accommodate these needs.
Incorporation of Digital
We are already seeing digital technology taking over our everyday lives, from the way that we do our work, to how we socialise. It has yet to fully penetrate the retail industry, however. As we move forward, we are seeing retail units that are needing to be fully compatible with digital features such as the internet and smart technology.
Whether it is the partially automated Amazon Go shops that we are beginning to see in the UK, the use of apps for customers to research, buy and then collect their goods, smart shopping trolleys that follow customers around the shop, technology that gives you a 3D image of how you look in a new pair of trousers, or an interactive shop window, digital is now and the future and the high street needs to facilitate its use.
Final Thoughts
It is certainly true to say that the high street is changing. But it is far from extinct. The truth is, that retailers need to adapt their businesses to keep up with technology and the expectations of their customers, and their retail units can help to facilitate this.
High street retail units need to be flexible enough to incorporate the branding and layout of a business as well as allow them to implement their technological needs now and in the future.
If you are looking to rent or buy a retail unit, here at Boxpod, we offer a range of options to suit any of your needs, and perfectly match your vision for your high street business.
Looking to expand or grow your business? Find your perfect space on Boxpod. 
Do you own or manage commercial space? Advertise it on Boxpod