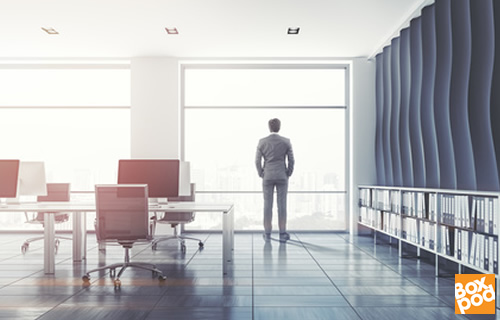 As much of the British workforce over the last year or so have been locked away working from home, one area that we have noticed that has been thriving is the manufacturing industry. Even in the most extreme of times, there are certain parts of the economy that cannot 'work from home', and manufacturing is one of them.
The factory in the form that we know it today came into its element during the Industrial Revolution and has been continually evolving ever since. The coronavirus pandemic has certainly affected all businesses around the globe, and here at Boxpod, we have noticed that there has been no let-up in the number of people who are looking for industrial property in their local area.
Industry 5.0
The manufacturing industry goes through revolutionary phases, the last one of which was named 'Industry 4.0'. This was manufacturing based on the use of smart technology, the Internet of things, and automation to increase productivity, reduce the risk of human error, utilise self-monitoring, and have better communication.
Some of the other benefits of this progression include that factories could be 'lights out' – the ability to keep lights and air conditioning turned off, reducing the amount of energy that is used, as well as allowing for 24-hour manufacturing since there is no need for regular human intervention.
It seems that the COVID-19 pandemic is pushing us on now to the 5th industrial revolution – or 'Industry 5.0' as it is known. In truth, Industry 5.0 is more of an evolution rather than a revolution. It doesn't discard everything that the 4.0 era bought, rather, it builds on it. The main premise behind Industry 5.0 is the integration of human and technology, with the two entities working together cohesively.
This means that the industry can still benefit from the positives in Industry 4.0 (lights out facilities and 24-hour manufacturing) whilst employing staff to use their humanism, flexibility, and creativeness that has been missing.
Local Distribution
We are certainly seeing a move back towards having local distribution centres or factories, instead of one, central space. This is a pattern that we are also seeing from product distribution companies like Amazon, who are procuring local industrial and commercial property to use as local distribution centres instead of having just one enormous central warehouse.
Manufacturers are also beginning to favour having several 'local' manufacturing facilities rather than one big one. Technological steps forward now allow manufacturers to control their machines and robotics from afar, meaning that they don't need to be on site as much. And this means that the products that are being created can get to their end-user quicker and in a 'greener' manner.
Travel bans associated with the coronavirus pandemic have also had an impact on the necessity for parts and products to travel less distance – and, therefore, supporting the requirement for more local factories.
The structure of manufacturing is changing with technology, with automation and 3D printing, smart technology, big data, and the Internet of Things fuelling it.
In terms of industrial premises, this means that we are going to be increasingly seeing manufacturers looking for smaller, more local spaces, with good distribution access – and this is certainly a trend that we are noticing here at Boxpod.
Connecting Man and Machine
One of the main characteristics of the Industry 5.0 era is the reprisal of the connection between man and machine. Whereas in the I4.0 period human jobs were being replaced by machines, triggering fears about the number of jobs in the manufacturing industry, we are now seeing that humans aren't obsolete. It is true to say that manufacturing jobs are changing, however.
We have seen increasing numbers of machines taking on tedious, repetitive, or dangerous work that humans were once doing, but now humans are coming in from a different angle – doing the things that machines can't do. Machines and robots are, after all, inflexible, have no ability for critical thinking, and are difficult to adapt. They are good at, however, precision, and consistent work.
We are now seeing more and more humans involved in creativity and personalisation – two aspects that are becoming increasingly important for consumers, working in conjunction with robots – a process that has been named 'cobots'.
Employee Safety
One of the most noticeable trends that we are seeing in the world of manufacturing at the moment is related to employee safety. This is both at the most basic level but also in the context of the safety measures required to protect employees from COVID -19. The sad truth is that we are likely to be seeing other viruses in the future, and it is likely that some of the measures that we are having to impose at the moment will stick.
Employee safety both physically and mentally is becoming increasingly central to the ways that businesses across the board are operating, and the manufacturing industry is no different.
When it comes to the design and layout of industrial units and workshops, the main concern is around social distancing. Manufacturers are looking to employ more machines and robots to carry out work which means that people don't have to be in close proximity to each other such as on production lines. Whether it is moving certain machines apart, or installing plexiglass dividers between staff, businesses are having to adapt.
Ensuring that there is adequate ventilation within the industrial unit is also another important consideration to help to improve airflow.
Risky work is being given to robots, which can be controlled by employees remotely, reducing heavy lifting or the human use of dangerous machinery, and training on potentially dangerous machines is being carried out through the use of virtual reality.
Final Thoughts
It is clear that the modern-day factory is a far cry from the industrial units of the past, as a result of the use of technology and robotics to produce high-quality products. Changes in the expectations of customers regarding the speed of delivery and eco-credentials are also meaning that the geography of commercial property and industrial units are becoming more dispersed and local, and it seems that this is a driving force behind the healthy market in the acquisition of industrial and workshop space.
Looking to expand or grow your business? Find your perfect space on Boxpod. 
Do you own or manage commercial space? Advertise it on Boxpod