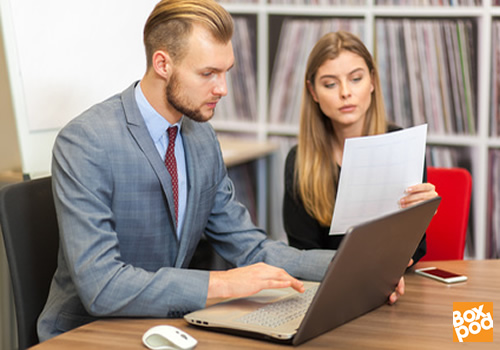 As the world becomes more aware of environmental issues and becoming more sustainable, businesses are needing to reflect this in the ways that they work. It might be through the services that they are providing, the materials that they use for packaging, their processes, or office working practises, but another way that a company can prove their environmental consciousness is by looking at how energy efficient their commercial premises are.
An EPC – or an energy performance certificate – is a document that is provided when a business buys or lets a commercial property. It gives details about how energy efficient the building is through an A to G rating system. They are also required when a home is rented or bought, but, of course, here at Boxpod, we are more concerned with energy performance certificates in commercial property!
Why are EPCs Important?
As we all try to do our bit to promote sustainability and become greener, an EPC is a vital tool for businesses to use. The EPC is made obligatory by the Energy Performance of Buildings Directive and means that when a business is moving into a commercial property, they have a clear idea of the building's energy efficiency (and, consequently, of their potential future fuel energy costs), and are able to plan for any improvements that they are likely to want to make.
Whether you are buying or renting an office, warehouse, or industrial unit, an EPC will be required – and the responsibility for providing it belongs to the landlord. If the building is divided into parts with separate heating systems, then each part will need to have its own energy performance certificate. This is a regulation that has been in place since October 2008.
What does a Commercial EPC Look Like?
The building's energy performance certificate assessment is carried out by an accredited energy surveyor, who looks at a number of aspects to the energy efficiency of the commercial property. These include:
The age, size, and type of building
The building's construction materials
Whether it has cavity wall, loft, or floor insulation, and to what amount
The hot water systems, boilers, and central heating that are present
The amount and quality of ventilation
The type of and amount of lighting
The standard of windows that the commercial property has
The energy rating is calculated according to the level of the commercial property. There are three levels –
Level 3 – a small building with a cooling system of less than 12kW and a heating system of less than 100kW.
Level 4 – a purpose-built building with a cooling system of more than 12kW and a heating system of more than 100kW.
Level 5 – defined as having a complex size or shape but with similar cooling and heating systems as a level 4 building.
The commercial EPC will show the building's energy rating, having been graded from 'A' to 'G', with 'A' being the most energy-efficient, and 'G' being the least. This scale is shown on a colour-coded diagram and the building's position on the scale is presented.
Displaying of the EPC
In a commercial property, the energy performance certificate must be displayed in a prominent position by law, if it meets three criteria:
The building is being used by members of the public
The total useful floor area of the building is over 500m²
The EPC has been produced for the rental, sale, or construction of the building
Whose Responsibility is it to Get the Energy Performance Certificate?
It is always the agent, landlord, or owner's responsibility to make sure that the building has an energy performance certificate. This must be made available before the building is put on the market to either buy or let. It will last for ten years, but only needs to be renewed if the tenants or owners change – in other words, if the building is occupied for more than ten years by the same people, the EPC doesn't need to be renewed until they leave or if something drastically changes.
Regardless of how long the tenants have been occupying the property, the landlord still has a responsibility to ensure that the commercial property meets energy efficiency standards, however. Even though the energy efficiency rating goes down to a 'G', the Legal Minimum Energy Efficiency Standards (or MEES) stipulate that the rating must be a minimum of an 'E'. This was a rule brought in by the Energy Act in April 2018.
It is a legal requirement that the building has an energy performance certificate, and the government can charge owners that don't provide one a fine of up to £5,000 (based on the rateable value of the property).
How to Get a Commercial EPC
It is a legal requirement that all energy performance certificate assessments be carried out by an accredited non-domestic energy assessor. There is a public register run by the government that has all of the accredited non-domestic energy assessors listed and this is maintained by the Landmark Information Group.
There are different types of assessors needed according to the commercial building, but this can be discussed with the EPC company before they come.
The EPC company will then provide a quote and book in a date for the assessment. After the assessment, the report will then be processed and the energy performance certificate sent out.
Recommendations
Recommendations of how a building can be made more energy efficient should also be provided by the assessor. These can include energy-saving measures such as:
Cavity wall insulation
Loft insulation
Double or triple glazing
Updating boilers
Installing more efficient cooling systems
Fitting low energy lightbulbs
Not all buildings are suitable for all of these measures, which is why the EPC assessor is on hand to give practical recommendations on how to realistically improve the energy efficiency of the building.
Final Thoughts
For businesses that are serious about their green credentials, ensuring that they are in an office, warehouse or retail unit that is as energy efficient as possible is essential. With an EPC, commercial property renters or buyers can ensure that they are getting a building that is as energy-efficient as possible, and owners can have an understanding of what they can do to improve its carbon footprint and lower energy bills.
Looking to expand or grow your business? Find your perfect space on Boxpod. 
Do you own or manage commercial space? Advertise it on Boxpod