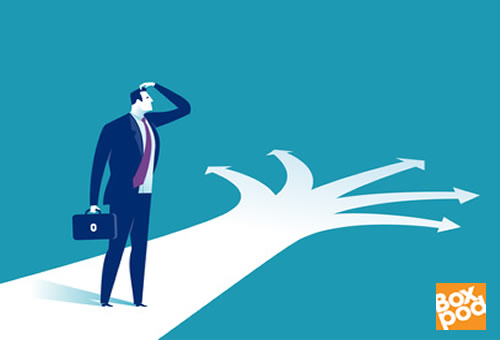 Finding the best industrial property for your business is key to its success. It is linked to the workforce that you can employ, the distribution of your product, and how successfully you can produce your product – or operate your service. We have found that here at Boxpod, our customers tell us that choosing the right industrial property is one of the most important business decisions that they'll ever make.
Moving and finding an industrial property to let is something that most of us hope not to have to do many times in our lives but when it is necessary it can sometimes be a daunting process. And that's where we come in. Here at Boxpod, we try to make the process as easy, cost-effective, and stress-free as possible through the way that we operate, but here is a handy guide that can help you to find the perfect industrial unit for your business, helping you to thrive and prosper both now and in the future.
Finding the right industrial property to let isn't easy but letting the right one for you can make all the difference.
1 Consider your Unique Requirements
The first thing that you should be thinking about is what your business needs from your industrial unit. Every business is slightly different and will have different requirements. Some of the things that you should be considering include:
The size that you need (sq ft)
The best location for you – and how much you can compromise on this
The size of your workforce (and any expected growth) that you hope to fit into it
Technical features that are required such as loading doors, ceiling height, etc.
Preferred unit layout (including additional requirements for office space for example)
Security features and necessities
Access to public transport as well as transport links via roads
Facilities such as toilets and showers that are already available or can be fitted
The visual impact that you require to fit with company branding
Your maximum budget
Time pressures for moving in and for how long you wish to stay for
Your private parking necessity and availability
Your budget
Impact of where you are located on the environment and your company ethics
Your lease requirements
Do you have any additional needs – parking for large lorries, space for deliveries, etc.?
From this list, you should then decide which ones are the most critical to you and your business, and which ones you can compromise on – and by how much.
2 Investigate your Local Commercial Property Market
We recommend that you take a look around and get a good understanding of your local commercial property market, this can give you a good idea of what's available in the area that you are searching in and an understanding of what's viable for you. It can help you to set realistic expectations about what is available to you and a good place to start your industrial property search, as well as give you information about rental rates of the amount of tenant demand that there is.
It is also worth looking to see if you can get any additional support which can sometimes be available through schemes such as Enterprise Zones, Business Improvement Districts (BIDs), and LEPs (Local Enterprise Partnerships).
3 Start Looking!
You can use your list of criteria to look around for the industrial unit that best suits your needs. Here at Boxpod, you can search by location, unit type, and rental value and you will be given more information about the property when you click on it.
Some of the other aspects that you should think about and discuss with the landlord include:
Whether any bills are included in the rental price – energy costs, for example. The landlord should give you an EPC (Energy Performance Certificate) which will show you how energy efficient the property is and what your expected energy bills are likely to be.
Business rates that need to be paid. This is a tax that is paid on all non-domestic properties.
Additional service charges that are payable, such as water, drainage, and gas as well as management costs and responsibility for repairs to the property.
Insurance should also be considered. Will you be expected to pay for this or is it included in the price?
4 The Lease
When you are negotiating the lease of the property with the landlord you should remember that it is a legally binding contract between you and the landlord. You should check it carefully, check that you understand it in its entirety and any implications that it might have for you and your business.
You should ensure that the agreed length of the lease is suitable for your business's needs. You also have the option of adding break clauses into the contract – which set dates during the lease when the lease can be broken. The landlord can only use break clauses if you agree, and you must give your landlord an agreed amount of notice (usually two months) if you intend to use it.
If you are going for a longer lease, the landlord may wish to add in rent reviews. If this is the case, make sure that you check how this will be calculated.
Your commercial property will have been given a use class, depending on the type of business that is going to be going on inside it. If you want to change your business or are looking to make alterations to the property you should make sure that you talk to your landlord about it first to ensure that it's covered.
5 Due Diligence
It is important that you don't have any surprises for yourself round the corner once that you have started leasing the property, so it is important that you do your due diligence before you begin to rent it.
Choosing the best commercial property for your business is an important decision in terms of how your business operates. Here at Boxpod, we understand that it can be difficult to know the best way to get started but helping businesses to find the perfect commercial property for them is what we do. So, we hope that our guide to leasing an industrial property sets you off in the right direction.
Looking to expand or grow your business? Find your perfect space on Boxpod. 
Do you own or manage commercial space? Advertise it on Boxpod