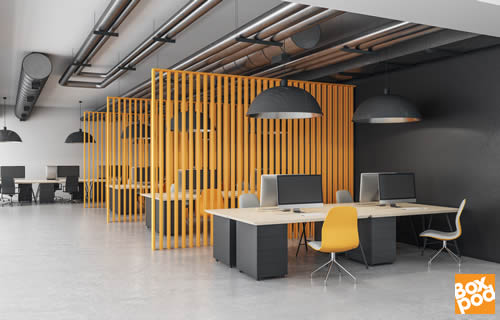 It is true to say that the internet has changed the way that we all live our lives – from how we socialise to how we submit our tax returns. So, it is not surprising that the world of commercial property has been able to embrace the internet and all that it has to offer, improving service and helping to connect buyers, landlords, and tenants in an easier, cheaper, and more effective manner.
Here at Boxpod, we like to use all of the tools that the online world can provide us with, to offer a better service, and we believe that this is one of the keys to what has led to our success. Our Managing Director, Nick Marlow, agrees, stating that "Interest and enquiries have shown steady growth over the past few years at Boxpod as the site continues to be a popular site for both searching enquiries and also landlords  estate agents and business space providers being able to easily list their units and spaces at an affordable price."
With the internet playing such an important role in the way that we work here at Boxpod, we thought we'd take a closer look at just what it does for us in terms of improving the acquisition of commercial property in the UK for our customers.
Here are five reasons why we believe that the internet has made the commercial property world a better place…
1 More cost-effective
There is no denying that the 2008 financial crash – as well as the COVID-19 pandemic – has made the world more reliant on the internet than ever before. The need for businesses to cut costs after the financial crash meant that technology has been used increasingly to streamline operations, cut down on staffing costs and automate processes.
The coronavirus pandemic has only increased the need to cut costs, and the internet has been the perfect solution.
Costs can be cut everywhere, not only in the streamlining of operations and automation of processes reducing the cost of staffing, but the internet also allows for commercial property agents to reduce the cost of their own premises (and, indeed, the size of their own premises) as well as the cost of publishing the properties. Businesses who were looking to rent a warehouse, retail space, or offices can now look online instead of having to get physical advertising papers and brochures that cost(ed) money to produce.
By being able to run a business like Boxpod principally online, these cost savings can be passed directly onto the customer, giving them great value for money when it comes to renting their commercial space.
2 Consumer Preference
The truth is that the population now likes to conduct their business online. Increasingly, people are choosing the online option – whether it is enquiring about a product through email or playing Scrabble with their friends.
Using a mobile phone or laptop has become a normal way to do anything that requires a little research today, so it is only natural that people will prefer to look online when they are looking to rent or buy commercial property.
It is important for us – and all businesses – to consider the preferences of their users or customers, so ensuring that we have an online platform that works for them as well as us is imperative.
3 Wider Reach
The internet has opened up the world. Whereas the commercial property agents of the past were only able to advertise to people who picked up the paper, a leaflet, or passed by the office, the whole world can now access the same information – if not more – at the click of a button.
This means that instead of having a limited number of people being able to see what commercial property there is available to rent or buy, there is now a far wider reach.
Businesses who are potential tenants or buyers are now able to research premises from afar, without necessarily visiting the area, the property can be listed immediately without the need to wait for the next publication to be produced, and property information is much more easily accessible to everybody.
The internet has suddenly opened up a customer base from a small local group to a worldwide community, helping us to be able to match the perfect landlord or seller, to the perfect tenant or buyer.
4 Incorporating New Technology
Whether it is an app specifically designed for advertising commercial property, or virtual tour software to help potential tenants or buyers to see the inside of the property, there is always new technology becoming available that can make the commercial property procurement process better.
Using the internet makes it easier to incorporate these new technologies as they become available, allowing agents to stay as up-to-date as their customers demand and improving the service that they can offer them.
W have found it very useful that we can integrate our system with other live property software, for example, allowing us to offer a streamlined, effective service.
5 Hands Control to the Clients
One of the most important bonuses that we have found with the rise of the internet is that it is handing back control to our clients. Giving our clients the ability to have control over their account and their listing(s) means that they know exactly what is going on, have the chance to amend details, speak directly to potential buyers or tenants, and self-administer their account as and when they feel fit.
This also means that potential tenants or buyers can speak directly to landlords or sellers, making the process quicker and easier.
Final Thoughts
The benefits of the internet in the ways that businesses function are clear to see for many people. Here at Boxpod, we believe that the ability to work over the internet is fundamental to the services that we provide – and at the prices that we can offer.
From integrated listing systems to an improved reach to customers, our ability to work online improves the service that we can offer, makes processes quicker, easier, and, ultimately, creates more happy customers.
Looking to expand or grow your business? Find your perfect space on Boxpod. 
Do you own or manage commercial space? Advertise it on Boxpod