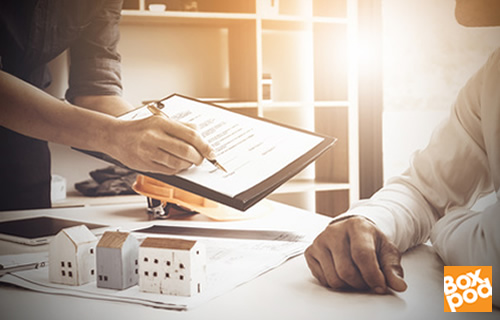 How to select commercial property to buy and rent – from the view of a property investor.
Boxpod director David Pease has grown his commercial property business over three years from 0-10 units across 100 miles and five counties. To date, he's bought industrial units – with a mix of sites including 1,000-3,000 sq ft lock up units with roller shutters, some yards for storage, containers, and some yards with containers.
Just as the sharing economy shares workspace and ideas, here, David shares his top tips for budding commercial real estate investors.
Start simple – don't be overambitious on your first project. The first project should be something as close as possible to your known comfort zone. For instance, if you currently rent an industrial unit in Leicester you will have a feel for the Leicester market. Try to start with something similar to what you know. Don't start your portfolio with a project totally outside your current knowledge base.

When you find a project research it fully. Boxpod is an ideal property portal to use as it is dedicated 100% to commercial property. Use Boxpod to find similar properties in the area. How much do they cost, if they aren't selling – why aren't they selling, what is the rental market like – is there much available? Get to know the area – spend a morning driving round the area. Stop at the local shops or cafes to talk to the locals. Talk to local business.

Work out your funding prior to bidding. If you are a cash buyer this should be part of the negotiations. If you need finance be prepared for this to take time and cost more than expected in set up fees. Banks rarely value property at market value therefore you may need leeway in the funds you will have to provide.

Build in contingencies to your financial models. Surprises rarely happen in your favour. Building costs usually go over budget, voids are usually longer than you expect, rental or sale targets may not quite be achieved. At every stage be prepared for a nasty surprise so that when it does arrive you can cope with it.

Build in a plan B and C. If you are planning to go down one route – work out what you would do if this route does not work. For instance, if you plan to sell on a project – calculate what would happen if this doesn't happen. There might be factors outside your control (remember the Brexit vote).  Plan B might be to reduce the price by 25% in a firesale. Plan C might be to rent. Work out if you could cope if plans A and B fell flat.
Don't be greedy. If you are renting and you have a happy and long term tenant and a rent that is 10% below top dollar – in the long term this is good business.

Establish a relationship with a solicitor who you can confidently work with – this may not necessarily be the cheapest. The solicitor needs to understand your business – and be a help not a hindrance to your future growth.
Ready to start your research?
Take a look at the commercial property to buy on Boxpod.