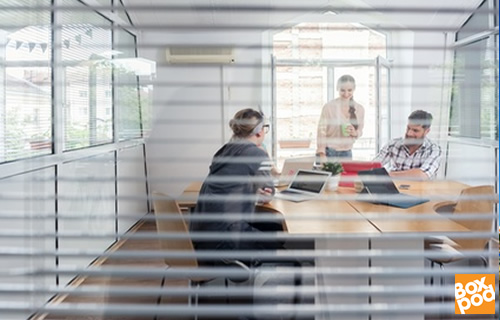 Boxpod catch up with Officio, for their insight into offices to rent in London as our own data shows activity is booming.
With all the uncertainty looming over the country since the announcement of Brexit, flexibility is the only thing the country can invest in right now.
Having the freedom of contracts without daunting timeframes and a simple, all-inclusive monthly bill gives businesses reassurance through a turbulent time. This is part of the reason that the flexible office market is so popular right now, says Officio.
What's more, the hassle free process of running an office in this way is attractive. This is one of the factors that draws larger businesses to the sector rather than just entrepreneurs or start-ups.
With the fast pace of business today, particularly in London, companies don't have time to organise the foundations of their workspace. Having someone to take care of this in a flexible space is ideal.
Another reason that this type of workspace to rent in London is becoming more and more popular amongst businesses, large and small, is the ease of interaction.
Smaller companies have the insight and influence of larger companies working by their side. While more established businesses benefit from a fresh view into modern markets, technologies and the minds of creative and enthusiastic entrepreneurs. And all of this is accessible over a coffee in a shared kitchen within one communal building.
As we learn more about the effects workspace has on our wellbeing and productivity it also makes sense for companies to simply move in to a carefully designed, ready-made space.
Every aspect of a flexible workspace – natural light, quiet spots, social areas, greenery and even outdoor space aims to maximise productivity. More recently, eco-friendly and wellbeing features are also a high priority of flexible spaces to rent, hoping to attract millennial employees.
With all of this combined; simplicity, flexibility, insight and smart designs, flexible workspaces are becoming a no-brainer for all types of companies, particularly in the thriving London business market, concludes Officio.
And business is certainly booming in the London office market.
Comparing Boxpod data on London offices activity in 2017 vs 2018, property views went up 490%.
In 2018, new listings on Boxpod went up by 150% and visitors requesting further information increased by 240%.
The co-working and flexible office accommodation in London is driving growth in the rented office market in the Capital. Nick Marlow says London has some great ideas and inspiration for others to draw on in this sector. He believes the market should be working with flexible workspaces to rent that are not only designed to a high standard but also offer so many more add-ons – both practical and entertaining extras. Be it bars and indoor golf, bike storage, a concierge service, showers, lockers, kitchen areas or quiet spaces – the additions attract and cater for the needs of today's individual workers and businesses.
Demand for quality and innovative flexible, co-working offices to rent is set to continue to grow and spread from London to all major urban areas throughout the UK. Watch this space.
Looking for offices to rent in London?
7 Benefits of working from a co working space
Productivity

Networking

New business opportunity

Increased well being and health benefits

Cost efficient

Better environmentally for carbon footprint

Flexibility

Advertise your commercial property to let in London on Boxpod