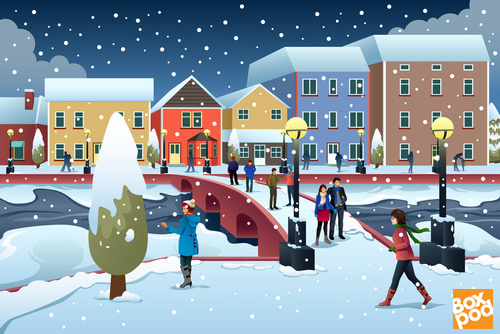 It's been a bumper year for Boxpod listing an ever-increasing number of commercial property units to rent and buy and seeing a record number of visitors to the site.
A big thank you to all our customers and we look forward to working with you in 2019.
It's a busy time of year but we caught a few words from key figures in the Boxpod offices as they reflect on the past 12 months and look ahead to next year
Read on for the Boxpod Christmas messages:
Nick:
"The retail sector has shown a decline in like-for-like sales as the dominance of internet shopping continues. However the savey landlord will work with the situation and adjust their offer to attract take-up of workspace to rent. There is a world where both traditional retailing and internet shopping can work in harmony and it's important to use both avenues to succeed.
I saw a retailer on my travels recently, who was proudly and boldly advertising his website address alongside his reduced opening hours prominently on his shop window. It seemed apparent this retailer was capitalising on both markets.
Flexible workspace in the office sector continues to grow with the increase in space offered by providers offering hot desks and affordable, flexible space.
Shortage of industrial, warehouse and workshop space continues as this sector shows dominance over all other commercial property. 
Is there a possibility that the future could see industrial, workshop and warehouse units to rent being advertised in a similar way to flexible office space offering shorter terms and shared spaces? I wouldn't be against it."
David:
"The rental and sales markets for industrial units of 3,000 sq ft was very strong throughout 2018. Shortage of supply to buy and rent was the key feature for all areas within the industrial Midlands. We see no prospect of this changing in 2019. Why?Because the small business community who occupy these units will continue to need a workspace regardless of the macro political uncertainty that prevails. There may be squeezes on freehold and rental prices for the mega sheds as major corporations hold back with their big investment decisions – but at the smaller micro end we see 2019 as being business as usual."
Charlie:
"I would agree that there is a lack of medium-sized, light industrial units throughout the UK and that there seems to be a surge for smaller units for personal use and small business owners whose businesses have outgrown their garages. 2018 has been a good year for adding brokerage customers. We look forward to providing the best service to both our customers and potential tenants that search on Boxpod. Wishing all our customers a very Merry Christmas and a prosperous 2019."
Tommie: 
"2019 will be business as usual. There is always business to be done day-to-day. The High Street will still struggle and we will see alternatives uses for premises that make it more 'local' and community focused. The multi nationals, such as Zara, will be trading as they deliver what everyone wants.
Again, business rates and taxes have to be looked at.
There will be some turbulence along the way but the world still goes round and business is still out there to be done. March will see people and businesses pick up – my prediction: mild winter with mild times in business."
Advertise your commercial property on Boxpod