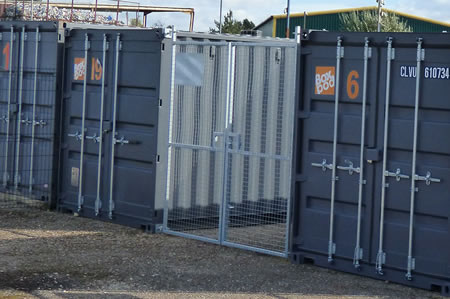 A new wave of declutter gurus are showing people the positive value of a neat and tidy home and workspace.
Are we really a nation of hoarders and collectors? Judging by the growth in demand for people wanting to rent self-storage, it would appear to be true. Home-workers, sole traders, SMEs and entrepreneurs find self storage an ideal solution as overheads are kept to a minimum – some sites have no rates or added utility costs.
Access to stock and assets, plus legal requirements to keep documents and information, has seen businesses opting to rent storage rather than increase existing work premises. Householders too are preferring to safely store belongings rather than clutter up rooms and garages. New build homes, flats and apartments can offer limited storage, no traditional garage, loft space or cellar.
This has meant the numbers and types of storage available has soared. See storage units to rent on Boxpod.
Boxpod MD Nick Marlow says storage shipping containers are a great value option for business use. He explains: "They offer affordability and flexibility without many of the associated costs with renting commercial space. There are no business rates to pay and no ongoing utility costs."
Shipping containers can be rented from as little as one month with the option to continue renting on a month by month basis.
With sites in Louth, Sleaford, Lincoln, Boston, Newark, Spalding, Wisbech and Nottingham, Nick is witnessing a wide variety of businesses choosing to rent storage containers. They are popular with carpet fitters, plumbers, electricians, and e-tailers. They can be used for storing stock, machinery and equipment. It reduces the risk of tools being stolen from vehicles parked overnight.
See available storage units to rent in Louth, Sleaford, Lincoln, Boston, Newark, Spalding, Wisbech and Nottingham.
How much space do you need?
This will vary according to what you are storing, how stackable and packable it is.
Consider these approximate guidelines:
Contents of a car or small van = 255 cubic feet/7.25 cubic metres
Contents of a transit van = 600 cubic feet/17 cubic metres
Contents of a removal van = 1,280 cubic feet/36 cubic metres.
Key points to look for when renting storage space: 
Location
It's always good to rent storage space which is easily accessible and commutable from home and/or office.
Security
Always ensure your storage comes with a good level of security. Look for 24-hour CCTV and hidden container locks, and that the units are within a locked and secure compound.
Flexibility
Most storage companies offer short term licence agreements that are not overly complicated. Do not get tied in to any lengthy agreements.
Quality
When renting a storage container always check the condition of the container for leaks or damp.
Final points to remember
There will normally be a deposit that is required (typically one month's rent) which is held for the period of the tenancy and returned when the container is handed back in good, clear, clean condition.
Insurance is not usually included. Ensure you take out insurance cover for your stored goods.
Find storage space to rent on Boxpod
More local storage in the area can also be found on https://www.boxpodspace.co.uk.