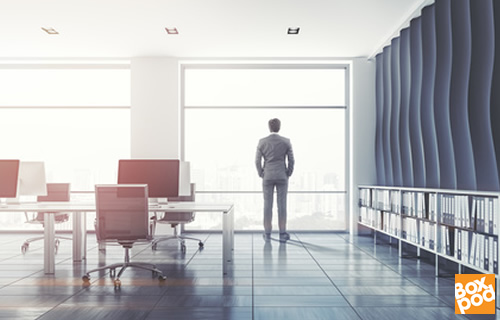 Here at Boxpod, we help to match commercial property landlords with commercial tenants all over the country. We advertise commercial properties including office space, warehouses, retail units, and workshops to rent, ensuring that commercial landlords find the ideal tenants for their properties (and vice versa).
There are many reasons why you might choose to become a commercial property landlord who leases their property to businesses. It is a different prospect to owning and leasing out a domestic property, often providing a yield of up to about 8.5% (depending on the location of the premises) and this is why growing numbers of people are considering doing it.
More and more people are changing to become commercial landlords – mainly thanks to the advancement of technology that allows them to find good commercial tenants. Owning commercial property is no longer just for rich investors, it is increasingly becoming an option for more 'normal' people. That does not mean, however, that it is not a decision that you should take seriously. It can be tricky and you should think through all of the aspects of renting your commercial property beforehand.
If you are thinking about it – perhaps you have already bought a commercial property, or maybe you are still thinking about buying one to rent out, here are some things that you should think about…
Existing Commercial Tenants
Unlike domestic properties, commercial premises often already have tenants in place. This can save you time and means that you do not have the property sitting empty for any time. It can also save you money on finding tenants. If, however, you do need to find commercial tenants, through us here at Boxpod is the best way to do it!
Rent
It is the norm in terms of commercial property, for rent to be paid three months in advance – in contrast with the norm for domestic properties of it being paid one month in advance. This means that your revenue stream can be more reliable and immediate.
When you are calculating the value of the rent that you are going to charge, there are several different aspects that you should consider, including:
The amount that you are paying in your mortgage
Calculate how much maintenance you might need to pay
Calculate how much tax and insurance you will need to pay
Try to incorporate a little profit for you
Look at how much your competitors are charging in your area for properties that are similar to yours
Lease Length
When renting a commercial property, the lease length is normally for at least a year – as opposed to six months as it is with a domestic property. Having said that, according to law, the minimum lease length requirement is six months – although on average, businesses normally stay on the same premises for around four years in England. This can help you to gain a steady, long-term income, potentially reducing the number of times that you need to search for new commercial property tenants.
Some businesses regularly stay in their commercial premises for up to 10 – 15 years.
You should also be aware that the rights of the tenant are covered by the Landlord and Tenant Act 1954, an Act that states that the default is that the lease does not automatically come to an end at the end of the term. If you want this to be the case, you will need to 'contract out' of the act – and you should speak to a solicitor about this.
Maintenance and Repairs
The responsibility for maintenance and repairs of a commercial building is different from a residential property. There will be some aspects of the upkeep and maintenance of the property that is your responsibility and it is important that you manage these aspects properly and in a timely manner, to reduce the risk of accidents and ensure that everyone is safe.
Some of the maintenance and repair elements that are the responsibility of the commercial landlord include the common and external areas of the property, general upkeep, electrical safety, gas safety, fire safety, some aspects of lighting, ventilation, water supply, and temperature.
Other elements of the maintenance and upkeep are the responsibility of the commercial tenants, including carrying out risk assessments, ventilation, temperature, adequate space, lighting, drinking water, toilets, and washing facilities.
Relationships
The relationship between a commercial landlord and tenant (a business) is usually different from the relationship between a residential landlord and tenant. These relationships are often less emotional and more of a business transaction. You should bear this in mind when you are dealing with your commercial tenants – for example, trying to stay as polite and professional as possible is essential.
It is important to remember that once you and your commercial tenant have signed the tenancy agreement, it can be tricky to evict them. You should, therefore, be careful to ensure that you have picked the correct tenants before you do this.
With all of this in mind, it is important to try to maintain good channels of communication and try to keep your relationship as positive as you can to make dealing with your tenants as easy as possible.
Location
When we talk about property ownership, we often hear that it is all about the property's location. This is true for commercial properties as well as residential properties. Depending on the type of commercial property that you have, you should consider where it is located.
A retail unit, for example, should be located somewhere that has good footfall, perhaps in a prominent place in town, whereas a warehouse that would be ideal for distribution might be better placed on the outskirts of town, near to motorways that can take products to different locations around the country, or a noisy factory, somewhere away from residential areas.
Final Thoughts
There are many different elements that you should think about when you are considering becoming a commercial property landlord (or lady). It is important that you are aware of all of the factors that are involved in renting out a commercial property, but if you decide that it is for you, we are ready and waiting for you here at Boxpod to help you to find your ideal tenants.
Looking to expand or grow your business? Find your perfect space on Boxpod.
Do you own or manage commercial space? Advertise it on Boxpod.