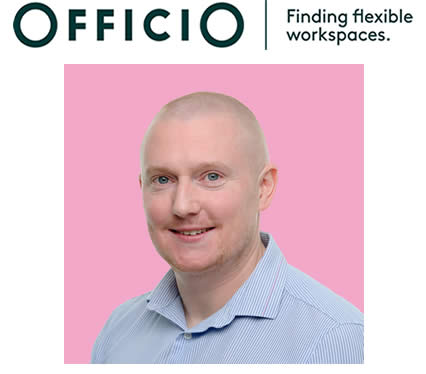 Top five tips to picking the right style and size of London workspace to rent. By Officio's new business advisor, Dean Ridsdill
1. Think about your Brand
The workspace you chose holds more responsibility than you may have realised. It affects employee morale, productivity and wellbeing so it needs to be somewhere people feel motivated and comfortable. Ensuring your employees produce the type of work you want them to lies in choosing a workspace that reflects your brand.
If your business requires some creativity, your workspace needs to be artistic and individual. If your brand is client orientated and helpful, your workspace will need inviting breakout spaces and meeting spots. Your brand is your business identity and your workspace and your employees are an extension of this.
2. The Impact of Location
Throughout London, the style of workspace differs greatly from region to region. Certain areas are better associated with specific business sectors. Old Street for example has become a technology campus while the West End is a favourite of those in the media. The designs of each workspace changes to reflect this.
Architecture is another feature which changes within each region. If you are looking for a more intimate, elegant workspace, the stunning Georgian Terraces of Marylebone may work best. On the other hand, if you are looking for more of a statement building, the skyscrapers of the City is where you need to head.
3. Consider you Clients
If your business regularly welcomes clients to your workspace, you will need to take this into consideration when choosing a base. It may be wise to choose a provider such as BE Offices who have a variety of workspace styles throughout their portfolio – offering clients access to them all.
This allows you to adjust your setting depending on the client you are going to meet. Having access to smart, professional space as well as contemporary and vibrant sites allows your business to be more adaptable and versatile.
4. Work in the Here and Now
When it comes to choosing the right size of workspace, it can become complicated. At Officio we keep things straightforward by working on a per desk basis. This means choosing an office based on the amount of people who will be working in it.
What's more, if you're taking a flexible workspace, there is no need to worry about expanding or refining the team in the future. Generally, contracts are only 12 months and if you do make changes before this time, and there is space in their portfolio, most flexible workspace providers will allow you to move to a new space mid-contract.
5. Make it your Own
Another aspect to consider when choosing a workspace is how important your input is concerning design. Differing workspace providers will have different approaches to this. One Avenue for example, will allow their clients to completely refit their office to their liking. Whereas many providers will simply allow and encourage branding and furniture with a possible lick of paint.
Of course, if you chose to lease an office, you will be solely responsible for the fit out. These spaces usually come as complete blank canvases.