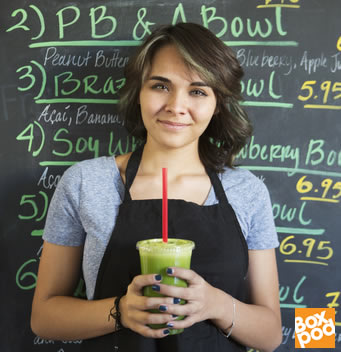 Britain's small businesses are predicted to be worth £241bn by 2025 and they all need premises to operate from whether it is renting an office, a warehouse, workshop, retail or storage unit.
Flexible and affordable commercial property to buy and to let is in demand.
Gone are the days of long leases tying tenants to premises. Rent or buy an office, small industrial unit or shop, and find storage space to let through www.boxpod.co.uk. As a property portal which only focuses on commercial sites, units and land, it's simply a case of typing in the location or postcode where you want to work from and available premises will be listed. And as your business grows, add more sites or move to larger premises as necessary without the headache of early tenancy breaks.
The small business economy is big business for the commercial property market. And it's booming.
There is a shift away from London dominance too as 10 major cities were identified in the study by the Centre for Economics and Business Research (CEBR) and the Hampshire Bank Trust.
Entrepreneurs in Greater Manchester and Leeds are leading the way in the great £241bn small business economy bonanza. Bristol was third and Birmingham 6th.
Search for available units to rent in Manchester
Find commercial property to let in Leeds
Looking for business premises in Bristol
Find affordable workspace in London
Search commercial premises in Tyneside
Commenting on the study, CEBR managing economist said: "This study demonstrates how SMEs are making a vital contribution to city economies across the UK."
2016 to 2025 forecast of Britain's small business economy
City

2016 contribution

2025 contribution

 

Per cent change

2016 – 2025

Greater Manchester

£13bn (£13,373,718,500)

£17bn (£16,835,047,500)

26 per cent

Leeds

£5bn (£5,435,544,700)

£7bn (£6,844,605,500)

26 per cent

Bristol

£4bn (£3,839,627,800)

£5bn (£4,741,697,300)

23 per cent

London

£152bn (£152,164,339,800)

£181bn (£180,972,040,900)

19 per cent

Tyneside

£5bn (£5,187,149,100)

£6bn (£6,170,773,300)

19 per cent

Birmingham

£6bn (£6,426,096,700)

£8bn (£7,612,653,900)

18 per cent

Edinburgh

£4bn (£4,450,399,200)

£5bn (£5,253,973,100)

18 per cent

Glasgow

£5bn (£5,157,719,900)

£6bn (£6,103,088,100)

18 per cent

Cardiff

£3bn (£2,602,141,500)

£3bn (£3,007,878,100)

16 per cent

Sheffield

£3bn (£3,457,445,600)

£4bn (£3,933,334,100)

14 per cent

Total

£202bn (£202,094,182,800)

£241bn  (£241,475,091,800)

19 per cent