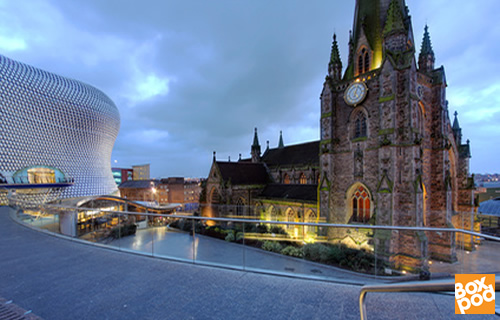 Commercial property to rent in Birmingham is in strong demand as the city is named a top UK destination for businesses and young professionals, according to Knight Frank's Birmingham report.
During a particularly turbulent period economically, the number of active businesses in Birmingham this year was up 13.5% on 2016 levels, three times the UK growth rate. The rapid growth in business numbers is unsurprisingly having an effect on employment: the West Midlands has increased workforce jobs by 110,000 over the year to June 2017, the largest rise in the UK by some margin.
Birmingham continues to undergo significant redevelopment and refurbishment in order to house these businesses, delivering schemes such as Paradise Circus, 103 and 55 Colmore Row and Snow Hill, which promise a mixed-use environment of office, retail and leisure in the CBD area, putting focus on lifestyle to ensure the location remains attractive to occupiers and their employees alike.
As this redevelopment continues and the appeal of Birmingham increases, commercial investors are continuing to flood in, with eyes on the city's strong covenants in high quality buildings, rental growth and yields higher than those in London.
The proportion of overseas investment in the West Midlands has remained significant, accounting for just under 30% of commercial deals over the 12 months to September 2017.
Find offices to rent in Birmingham
Looking for industrial units and workshops to rent in Birmingham?
Ashley Hudson, Office Head, Birmingham commercial commented: "Birmingham has cemented its place as the location for businesses looking to relocate outside of London. The city has seen significant change over the past 10 years and that has not gone unnoticed by investors and occupiers alike. Both office and industrial markets are going from strength to strength and we expect to see a rise in office values fuelled by rental growth.
The attraction of the market can, to some extent, be underpinned by the tremendous pool of talent that Birmingham affords to modern business. This talent is one of the principle reasons occupiers continue to move into the city. This demand and job creation has already resulted in significant changes to the city's environment and the next three years will see the City continue to mature."
The City and Developers have reacted well, providing more innovative buildings based on staff attraction and retention with amenity and wellbeing firmly in focus. Todays developers are taking a customer centric view on their offer which is attracting new business to Birmingham.
In the housing market, Birmingham, along with Manchester, recorded the strongest house price growth of any city in England, including London, in the year to the end of June. Average property values have risen 43% since 2009, with Knight Frank forecasting that average house prices in Birmingham are set to rise by 5.5% this year.
There has been a historical shortfall in the number of new homes across Birmingham. However, the development market has been notably active in the last few years, with just over 4,000 units under construction in central Birmingham alone – some1,500 of these being Build-to-Rent. A key project example is The Bank on Sheepcote Street, which will offer some of the best views across the city from the initial 21-storey building, situated close to the new HSBC sand Deutsche Bank offices.
As an incredibly popular choice for young professionals, Birmingham is one of the 'youngest' major cities in Europe. Some 46% of the population are aged 30 or under, with the number of those aged 20 to 30 jumping by more than 25% between the censuses in 2001 and 2011.
Search commercial property to rent and buy in Birmingham.
Mark Evans, Head of Regional Residential Development, Knight Frank commented: "A growing population, improved transport links and a step-change in amenity, careers and lifestyle has underpinned the demand for new homes in central Birmingham.
"With significant overseas investment in the city, plus the renewed interest of major housebuilders such as Berkeley Homes and Galliard, Birmingham is on track to become a truly global city."
Angus Michie, Divisional Chairman at Berkeley Homes said: "This is the first time we have been active in the Birmingham market in more than ten years, and the change in the city is striking.
"There has been huge investment in the city, there is a 'can-do' attitude among policymakers and the arrival of the HS2 high-speed link to London will only serve to cement the city's standing".
Birmingham continues to shine as a desirable destination and the city's future looks positive. As businesses and young professionals stream into the city, demand for both commercial and residential assets remains strong, fuelling active development of high quality property across the city.